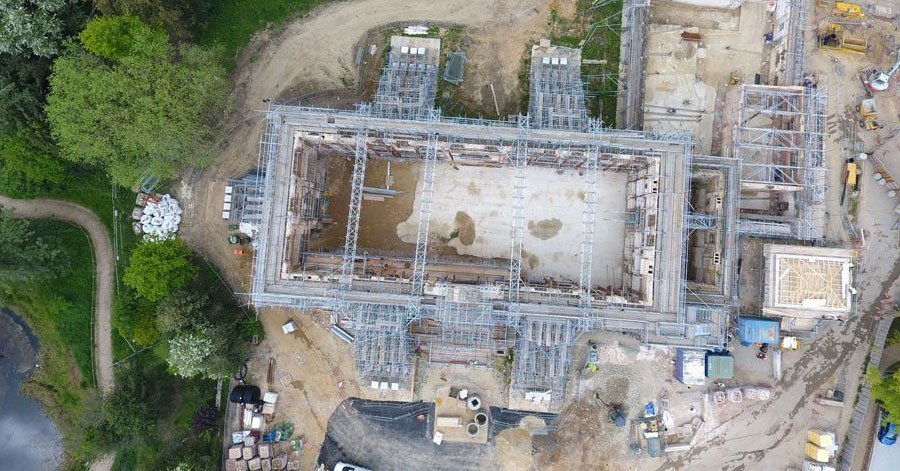 We're excited to share the drone footage of the ongoing works at Leybourne Grove.
In June 2017 Masons Scaffolding was engaged by Sloane Demolition (and subsequently Taylor Wimpey) to provide full retaining scaffold and temporary roof during the demolition of the internal walls, floors and roof of the Manor House at the Taylor Wimpey, Leybourne Grange Project in West Malling.  There are considerable challenges with such an old building, which dates back to 1724 and which was found to be in a much worse condition than originally anticipated.
In 1936, Leybourne Grange became home to 1,200 patients with various degrees of mental disability. Patients lived in 27 villas split into male, female and children. Designed to be completely self-sufficient, the 270 acre Leybourne Grange had its own farm, industrial laundry, huge boiler, a kitchen garden and workshops. There were houses for married staff and a large nurses block. As care in the community became more prevalent, Leybourne Grange began to implement closure in 1992 with the final patients leaving in 1996. The estate was left to decay until the Healthcare Communications Association sold the buildings to developers and plans were put in place to develop the estate into 722 homes, comprising 702 new properties and the conversion of the listed Manor House into 21 apartments. All the homes will meet the EcoHomes Excellent standard and 176 will be available for affordable rent or shared ownership, giving more people the opportunity to become homeowners.
This project, due for completion in 2021 also included additional works to the Clocktower and Caretakers' Cottage, along with the library and ancillary buildings.