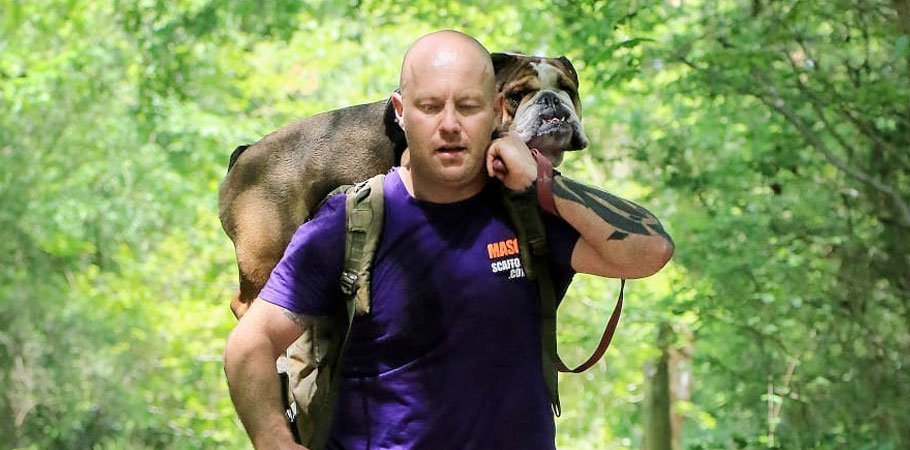 Here at Masons Scaffolding we're immensely proud of scaffolder, Ian Collins, who recently completed PARAS' 10, a gruelling 10-mile endurance race through rivers, swamps and over hills which took place last month at the Colchester Garrison. Competitors were challenged to complete the cross country charity event carrying a Bergen (rucksack) which weighs 35lb before water is added, taking it to around 40lb. Ian entered with his trusty bulldog Reg who put in a sterling effort but decided four miles from the end that he'd had enough and finished the rest of the course on top of Ian's Bergen.
Ian served in The Second Battalion, Parachute Regiment (2 PARA) for 18 years and completed several tours of Northern Ireland, Sierra Leone, Iraq and Afghanistan among others.  In 2008 he was injured in an artillery strike and went on to become an Instructor until he was medically discharged in 2015. During his time in the PARAS Ian was awarded 10 medals for service.
All profits from the Ultimate 10 Mile Endurance Race are donated to SUPPORT OUR PARAS, a charity which supports The Parachute Regiment by providing welfare assistance to serving soldiers and families to complement or fill the gaps in State provision, as well as supporting vital aspects of the Regiment's daily life and history.
Now in its 6th year at the Colchester Garrison, The PARAS'10 was originally founded by WO1 JJ Wilson and was run in Aldershot from 1982 to 1993. When the PARAS left Aldershot, the event lay dormant until 2008, when it was revived by Major Sam McGrath in Catterick. In 2012 it was introduced in Colchester, the home of the UK's Airborne Forces.
Congratulations to Ian and Reg on completing the course in support of this worthy cause.