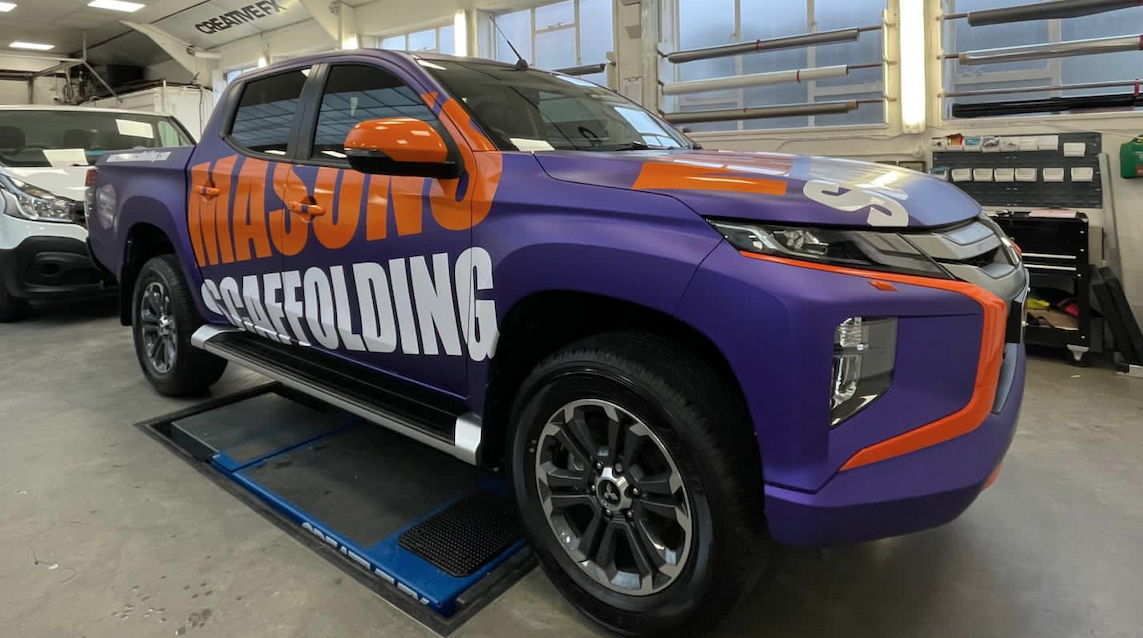 We've made another addition to our fleet of robust and reliable vehicles. We're pleased to introduce our new Mitsubishi Barbarian pickup.
Having been more than satisfied with their work previously, we enlisted the expert services of London-based wrapping company, Creative FX. They provided a full wrap, incorporating the Masons Scaffolding logo, with our trademark colours of purple and orange featuring throughout. Given the smaller size of the pickup in comparison to our lorries, we opted not to include the iconic London skyline, creating a more minimalist but equally professional final design.
Having added the compact and versatile Mitsubishi Canter to our fleet of Mercedes lorries earlier this year, we had no reservations about using a Mitsubishi again. Much like the Canter, the Barbarian is ideal for working in London, where narrow streets can restrict access for our lorries.
The Barbarian is also perfect for our Operations Management team. Their day-to-day role includes regular site visits. Despite the uncertain times, we have still have a lot of projects in the works at the same time, making it essential that our team can easily get from one location to the next.
Not only is it more practical to drive when a lorry isn't required, it also outperforms many standard cars in terms of fuel consumption and emissions. With the government pledge to reach net zero carbon emissions by 2050, as well as further changes to London's ULEZ, the push to be kinder to our environment is clear for all to see. Therefore, it's of great importance to Masons Scaffolding that we support the government with its initiative by ensuring that all our vehicles comply with their standards.
Find all our latest scaffolding updates on our news page here, and be sure to follow our social media. Find us on Facebook, Twitter and LinkedIn.